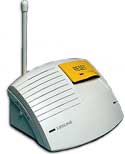 The Lifeline service is for elderly or frail individuals who want the assurance of 24-hour assistance at the touch of a button while remaining independent in their homes.  We provide them with 24-hour help or assistance. We offer peace of mind and reassurance for these people and their family.
How does it work? 
It starts with the push of a button.   When the subscriber pushes on his/her emergency button (watch or necklace), a call is placed to CommunicAction and the subscriber's details pop-up on the computer screen.  Staff at CommunicAction will answer the call immediately asking if the subscriber needs help, will assess subscriber's needs and quickly send the appropriate support.
What happens if I push my Personal Help Button but cannot get to the phone?

All Lifeline Communicators contain a highly sensitive speakerphone that enables the staff at CommunicAction to speak with you, even if you can't get to the phone.  If you can't respond, our operator quickly sends help as per the instructions you specified when you subscribed to the service.
How can I be sure the operator will know what to do in an emergency?
Our operators are fluent in English and French and the service is offered 24 hours a day, 365 days a year. Upon receiving an alarm, our operator will try to communicate with you through the speakerphone on the Lifeline Communicator. If they can determine what you need, they will assist by calling an ambulance, the police, neighbors, or relatives, and will follow your instructions. In the event our operator cannot communicate with you, he/she will follow instructions in your personal file and  will not quit until he/she is successful in sending you help.
How do I subscribe to the service?
You can subscribe to Lifeline by calling our installer at (705) 372-2822.  You can also use this number or fill out our info form to obtain more information on the Lifeline service.
How much does the service cost?
Subscribers pay a low monthly fee for as long as they use the service. The monthly fee varies from municipality to municipality.  Details on prices can be obtained by calling the same number as above.
The Hearst Lifeline offers its services to municipalities along Hwy. 11, from Smooth Rock Falls to Hearst only.  For other municipalities, visit the following links:
Kiwanis Brant County Lifeline
Lifeline Systems Canada
Lifeline USA